Here's a brief update of last week's happenings. It consist mainly of activities related to eating, and more eating. Possible side effects include bulging eyeballs, growling stomachs and salivating. Also, if you 're bad at resisting temptations, then I suggest you better navigate from this webpage right away! =P
10th March 2007 (Saturday)
Met up with my dearie at 6pm. Was slightly late as bus 36, from marine parade took 30mins to come. With the hot hot sun scorching down on me. Im surprised I acty had the patience to wait. Usually, I'l just walk down the road and take 240, or now, 250. Haha. Was at marine parade as I had to buy some titbits from Mark's and Spencers' for my grandma. Bought Dark Chocolate coated digestives as they were on promotion. Aunt also bought me a box of Organic cranberry + pumpkin seed butter biscuits. Thanks!!
After that, went with dearie to Candy Empire at Millenia Walk. This time, I went there becoz i HAD to, not WANT to. Haha. Had to buy somemore titbits for my ah ma. Got her some arnotts biscuits and bought for myself some cheese pretzels and cafferal giandula flavoured chocs. The packaging of all their titbits look so pretty and presentable. Who can resist not buying them? Thank God they don't have trolleys otherwise you'l see everything being dumped inside. –bleahz-
Liased with my aunt to have dinner together. Suggested Aglio Olio at China Square Central. Cabbed there as the weather was too hot for me to endure. =P Me and dearie initially wanted to try the fish and chips at the much talk about Manhatten's but I suddenly lost my craving for it. Think it would be better if 4-6 ppl ate there together. Then we can order more stuff, like seafood platters, mussels in cream butter sauce, baked rice etc to share. =D
Aglio Olio is a restaurant that serves Singapore's version of pasta. Majority of their pastas are aglio olio style. Its called Sg's version of pasta as their pastas are really really spicy. 1 chili represents non-spicy, 2 chili represents normal, 3 chilis represent spicy, while 4, being the max represents extra spicy.
I had a seafood aglio, my dear had a seafood pasta tossed in tomato sauce, my aunt had her fave mushroom aglio while my uncle had an original aglio.
Mine was only done "spicy" but it was enough to bring me to tears. My honey was even better. He went being the max and asked for his pasta to be done EXTRA EXTRA spicy! Just let the pasta touch your lips and its enough to send a burning sensation. Just like a silent killer. Me and dearie ordered a set dinner for 2, which came with a basket of wings (but we changed it to calamari instead), garlic bread, lemonade and a soup of the day. All for just $29.90. Quite worth it i must say.
Ordered a fried ice-cream to share. Saw it on the menu and knew it was a must have. The fried crusted outer layer is super nice! Blends well with the cold hard vanilla ice-cream inside. Yum~
Chilled and chatted for a while b4 heading next door for more dessert! No matter how full we vermonsters are, there's always still room for dessert! Hurhur.
The Ricotti, an Italian restaurant, sells their pastries/cakes for 50% off from 9pm onwards. The Ricotti, together with Menotti and The Italian Bar restaurant, is also a restaurant under the Garlbardi group, well-known for their desserts. We ordered 4 desserts to share – duomo, diplomatica, soffiato and tiramisu.
The diplomatica is a puff pastry and sponge cake layered with fresh strawberries and vanilla custard. Soffiato is a warm dark chocolate cake served with a single scoop of choc-chip gelato. See the thick dark molten chocolate lava oozing out slowly? haha. Tiramisu on the other hand is a mascarpone cheese cake with ladyfinger biscuits, coffee and cocoa while duomo is a domed shaped cake with spicy mascarpone cheese on the outer layer, dark bitter molten chocolate on the inside and a crispy butter biscuit layer. Heavenly. I dont even have to tell you how nice it is. I'l just let the pics do the talking.
Shared a hazelnut affagato which came with a scoop of hazelnut gelato. The Italian waiter will acty pour in the espresso right in front of you. Interesting. Its also much nicer than TCC's and the prices there are similar to those of Starbucks and Coffee Bean! Will definitely be back for their main course and more desserts of coz. =D
9th March 2007 (Friday)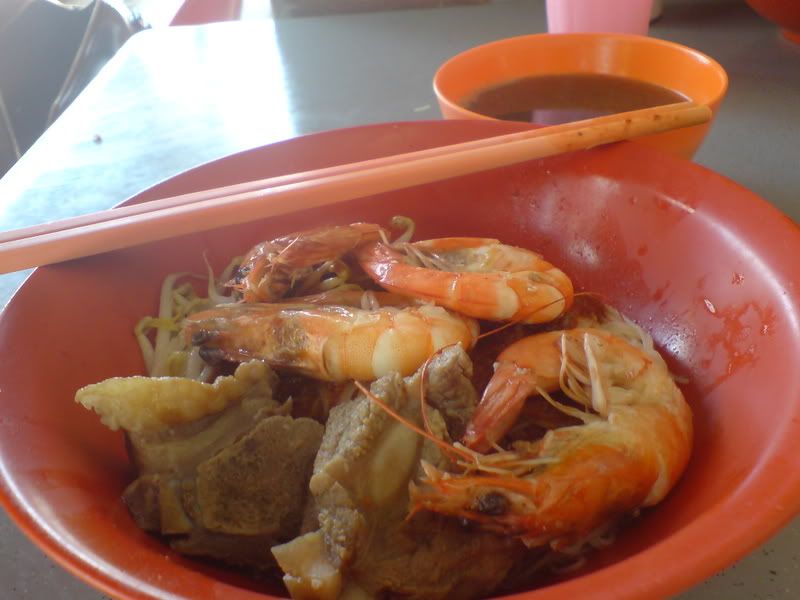 This time, I finally had my onan road pork ribs prawn mee! If you read my previous entries, I always talked about going there for lunch but for some reason, they were always closed. BOO~ Onan road's prawn mee is one of the bestest prawn mee i've ever eaten in the whole of sg. Its so good my dear actually finished up 2 bowls of it! My honey was already ¾ done with his first bowl and I was still busy picking out fried onions from mine. Amazing.
Dearie rode me to school for econs tut after that. Then we rode to The Cheesecake Café at Siglap for hightea.
We were their first customers of the day. (They open only at 4.30pm) Ordered their oreo and new cappacino cheesecake. Had a hazelnut + irish cream flavoured coffee to go along as well.
The cheesecake is quite good but its not something to wow about. What makes them unique is that they serve many different types of cheesecakes! Like peanut butter, rum and raisin, peach jelly, chocolate, green tea etc flavoured cheesecakes. The interior is made up of big comfy sofas accompanied with big fluffy cushions. Magazines are available for browsing as well. Indeed, another nice chill-out spot. Will certainly be back for more. =D
8th March 2007 (Thursday)
Surprisingly, I managed to get out of bed at 6.30am to go for history tutorial. Was made to present the question of the day by my group members. Great. Stats test after that. Pretty manageable. Met up with dear after test to go for lunch. Bought movie tix for the movie 300 at The Cathay first. After that, honey rode to Far East as we wanted to try the fried chicken ramen which was featured on TV last night.
The fried chicken is yummilicious! Very crispy. Noodles were so-so. Not to my liking as I found them to be a little too starchy. And I must say that they are really generous with their noodle serving! It can easily feed 3 people okie. Was starving but seeing the big portion of noodles kinda disgust me and made me lose my appetite. Ended up eating only a few strands. However, their noodles are hand-made and they offer variety too. Can really spoil you for choice.
7th March 2007 (Wednesday)
No FNA tutorial today! =D Did sth really fun as well. I was a chef for the day! Haha. Whipped up breakfast and lunch for my dearie. Made French toast with Gardenia's banana walnut bread and used eggs, milk and vanilla essence (for flavour) as the batter. Dint turn out the way I wanted to be as the insides, which were supposed to be hard, turned out soggy. But nevertheless, a good try. Cooked a simple lunch consisting of mee sua with ingredients which I bought from the market – yong tau foo, veggies, minced meat, quails egg, shrimp wantons and scallops. Doesn't the picture look good? Ummmm…
6th March 2007 (Tuesday)
No MS tutorial today! Glad to announce that I passed my MS test! Went to Burger King with my dear for breakfast. Ordered the usual stuff – Ham croissont meal. Except mine was actually a kid's meal. Only realized it when the auntie took out a basket and asked to me choose a toy. Haha. But its okie, I always order happy meal when im at mac. The toy has a super big green head and there's only one word that best describes it – VERMONSTER! Haha. Pijjie has a pig, I have a vermonster! But seriously, the toy is uber ugly la. Dint bother bringing it back. Y need a toy vermonster when I have a real life-sized one? =P
Went to Amoy for lunch. had 1 popiah only as i wanted to have Ikea's swedish meatballs. Bought 1 plate to share as well as a choco cake for dessert.
The choco cake wasnt really to my liking as it tasted very much like fruit cake. Sth which i really dont fancy at all. The meatballs were good. The sauce went well with it and what amused me was that they acty served strawberry jam with it! But surprisingly, it tasted quite good! Couldnt stop dipping my meatballs into them.