This is a late update for last week. (12th to 18th March) Sorry for the delay as i had difficulty publishing my blog entries due to poor server network at home and in school. But well, alas, its finally published so, happy reading!
12th March 2007 (Monday)
I've finally tried the yong tau foo from the first floor of Amoy Food Centre. What's so special about it? Well, instead of serving it with the typical beehoon, this stall serves it with chee cheong fun! They have another hakka ytf stall upstairs that serves it with chee cheong fun as well but somehow this one is much much nicer. They offer a wide variety of ingredients for you to choose from and you have the option of telling the uncle whether you want them fried or not. I decided to screw the diet for that day and had it fried. 6 pieces + chee cheong fun + free veg = $3.20. Quite reasonable, considering that they give a generous serving of veggies. But really, its not the price, the variety of ingredients or the uniqueness of serving chee cheong fun with ytf that makes me wana come back for more. Its gotta do with their sauce. Taste different from the other ytf stalls. Really brings out the flavour from such a simple dish.
Early dinner at Old Airport Road. Rojak stall is finally open. You have to take a queue number first and wait for ur turn before you tell the old lady your order. Weird. Maybe she's old and cant remember so many orders all at once. Our number was 41! Means 40 ppl bought rojak from her b4 us. 40 multiplied by $3 a plate equals $120 in just 1 to 2 hours. Profitable ehh. I mean how much is the market price of 1 taupok? Haha. Her rojak is nice bcoz of her rojak sauce. Its thick and has body. Think she made it with her own recipe coz she sells them for $2.20 a jar.
My fishsoup stall was closed. So I tried another stall's fried fish beehoon soup. And guess what? Its much nicer! In fact, its very different from all the other fried fish bee hoon I've tried. They serve it in a metal pot and add extra ingredients like cuttlefish which sort of makes the dish even tastier. Go try it! Its just 3 stalls away from the rojak stall.
13th march 2007
Had chee cheong fun ytf from amoy again. I think I can eat this for lunch everyday and not get sick of it. Haha. Bought a cup of fresh apple kiwi juice as well. Chose this drink to help cool me down as I tend to get over heated easily.
Went to vivo awhile b4 going to The Daily Scoop at Sunset Way for ice-cream. I bought a single scoop of "Unusually apple" flavoured ice-cream while dearie bought a brownie.
The Daily Scoop makes ice-cream using their own machines in the shop. Feel like getting one of those for my future home next time. Haha, And maybe a popcorn machine as well. =P Recently, I noticed sth too. I've been ordering a lot of apple related food. For the past 2 days, I've been buying apple juice from my school canteen. Last thurs, I bought green apple juice from Far East. And just today, I bought an apple flavoured ice-cream and an apple kiwi juice from amoy! Gosh. To think that I hated apples when I was young. My mom used to force me to eat apples almost everyday and what did I do with them? Throw them out the window. Yes, I did that bcoz I hated apples. Haha.
14th March 2007
My last FNA presentation ever!
Met up with dearie for dinner. Dined at PS Pasta Mania. Tried their sausage ham baked rice. Its good. At least they seem to have more sauce/cheese than rice.
Honey bought oyster mee sua after having a plate of seafood marinara and garlic bread from pasta mania. I don't like oysters! Its just so….. eew…
Den honey bought sushi from Carrefour. Dint buy any as I wanted to save my appetite for dessert at the Mind Café.
Ordered their Hot Fave Mind Café brownie.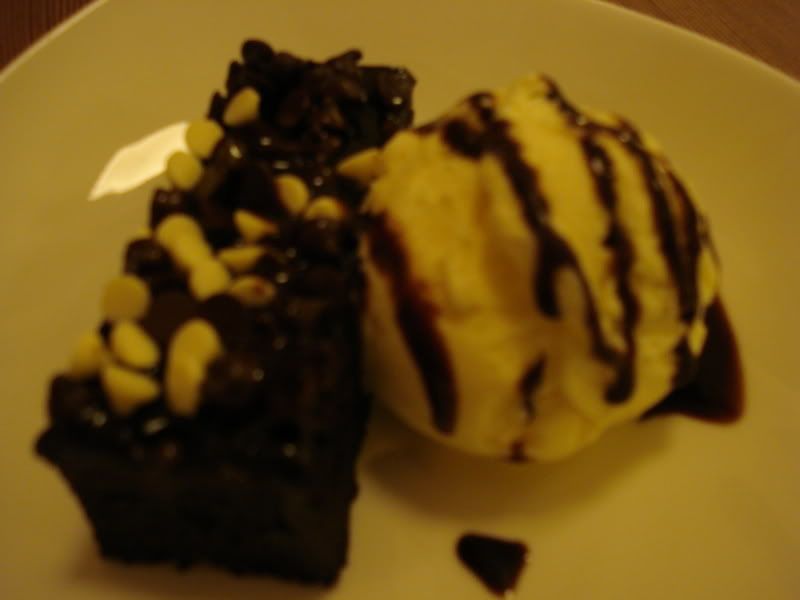 Yum~ The brownie is dense with chocolate. Even the fudge sticks to the spoon. Warm brownie + Cold ice-cream = perfect match. Can fight with the brownies from Café Melvados as well as those from The Brownie Factory. But I cant declare it as the bestest bestest brownie as I've yet to try those from The Baker's Story at Sin Ming.
1 brownie at Mind Café was certainly not enough. So dearie ordered a double choc brownie to share.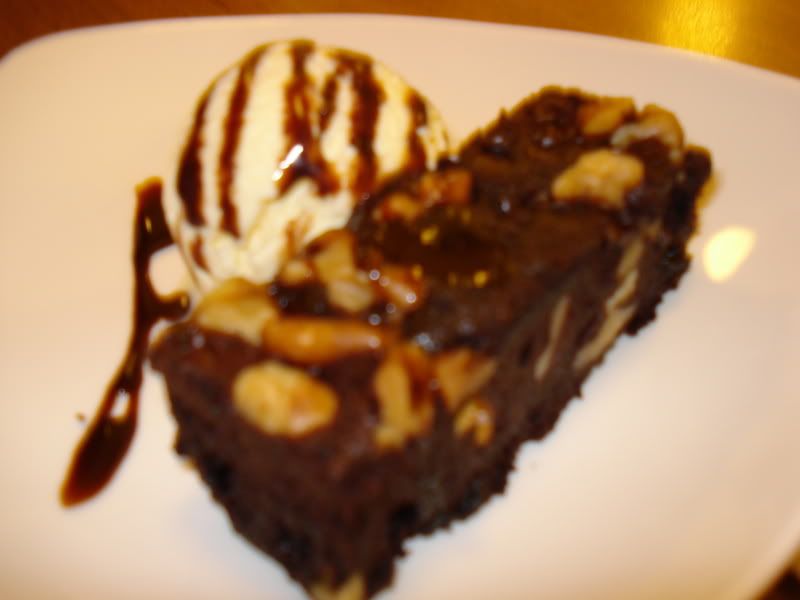 This one contains nuts and its not so chocolatey but still good. Value for money. Only $2.90. And for the month of march, they are offering this promotion of free board gaming for the first hour. Anyone wana go play board games? Am waiting for the day when more ppl will come, then can I order their much talk about chicken wings and cheese morsels to try. Heez.
15th March 2007
Lunch at Toa Payoh Lor 7. Queued for mixed veggie rice. Long queue bcoz its really cheap. 2 veggies + 2 meat + rice for only $2! And of coz, we bought popiah as well.
That's the main reason why we're here. I seriously think it's the bestest bestest bestest number 1 popiah in the whole of Sg. I've tried so many and ive yet to find one which has a similar taste to this.
16th March 2007
Drats! The tube top which I saw and wanted to buy but dint buy from Forever 21 is sold out!!! Argh! Im so sad! Really regretted not buying it that day. Comforted myself by doing some retail therapy. Bought a tube top from FOX and a pair of white shorts and skirt from Mphosis. Wanted to get their slippers too and also tot of buying another set of bikini from sheer romance but well, better refrain myself and learn to stop being such an impulsive shopaholic. I am not gonna shop for the next 2 mths and I promised my honey that im not gonna eat expensive food for the whole of next week too. BOO~ But see it from an optimistic viewpoint, I get to diet and also save up for my zara skirt! Heeheehee.
17th March 2007
Today is makansutra day with my aunty keng and uncle Kenny! Last Saturday, we had Singapore's version of pasta from Aglio Olio as well as some sweet Italian treats from Riciotti. This week, we had simple Chinese fare.
Uncle drove to my grandma's place, which is oso my place (considering that we live just 2 blks away) , to pick us up for lunch. Honey was late as he overslept. Dearie rode but I chose to sit in the car as I dint feel like wearing a helmet during such hot weathers. Had ytf for lunch at Kembangan.
This is a hakka ytf restaurant but instead of serving ytf with meat stuffings inside, this one serves it with fish stuffings instead. The fish stuffings are made with real fresh fish paste and its really tasty. The fish balls are handmade with fresh fish paste as well. Anything to do with fish is good here. Do check it out as and when you're free. It'l be easier to get there via car/bike. Restaurant name is Goldhill Hakka Restaurant.
Went to Vivo City after that. Discovered a shop selling all things CHOCOLATE! Its called Chocolate factory.
Am gonna get their hazelnut spread one of these days. $34.90 for one medium sized bottle but can be used as a spread, for cooking, as a flavour for drinks etc. Yummy! Went back to forever 21 to see if they still sell my fave tube top but nooooo, its sold out for good. Saw a few nice clothings at MNG too. Hmmm.. Grandma looked bored after a while, so we went to Wang Jiao, a hk café at harbourfront for high tea. Had kaya toasts, soft boiled eggs, and iced yuan yang. Nice Nice. Taste quite similar to ya kun's acty.
At around 6pm, uncle drove to commonwealth's hawker centre (near NLB) for dinner. We shared 2 plates of fried char kway teow, 1 plate of grilled chicken chop and a super mega huge serving of claypot chicken rice. Queued for abt 30 mins for the char kway teow. Definitely worth the wait. It isn't too oily and the flavour is there. Best of all, the uncle frying it provides excellent service. And he started frying char kway teow ever since he was a kid. Amazing.
The grilled chicken chop was not too bad. The chicken chop and sauce is nice but the sides (fries and corn) sorta ruined the whole dish. The fries werent fried till golden brown and the corn stuff looked way overdued.
Highlight of the night – Claypot Chicken Rice! Waited 40 mins for this.
Look at the portion of it! Look at how much chicken they gave us! Scary! Its obvious that they aren't stingy when it comes to giving ingredients. The rice is nice and fragrant as well. Can smell and taste the burned charred claypot rice. Its my fave. The more chao tar, the better. Haha. Love the chopped taiwan sausages inside as well. The claypot chicken rice is so good we acty had no problems finishing it, despite having char kway teow, chicken chop and high tea a few hrs ago at vivo. But sadly, it still loses to Chinatown's claypot chicken rice. Somehow, my uncle still cant manage to re-locate this stall ever since renovation works began at the hawker centre it was situated in. Its like a makan lost and found kinda thing, except that its still not found! BOO~
Overall, lunch was good, high tea was good, dinner was even better. Certainly a day well spent. Patrick said I should be a food critic. Haha. Job requirement is : Must be able to eat. LOL
Playing with ugly shades at OLD-G aka OG